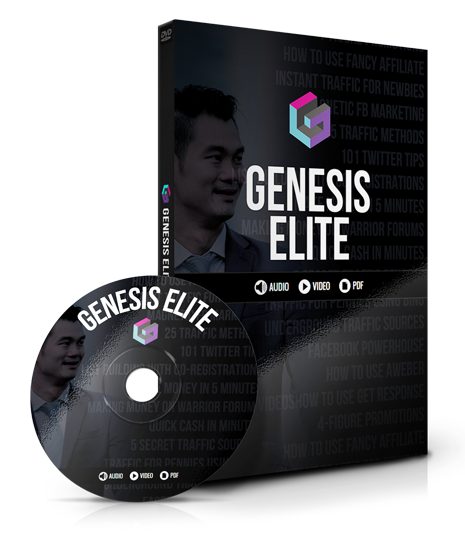 THE POWER OF GENESIS ELITE
As an Entrepreneur, the path to building success is a journey, not a sprint! With the Genesis Elite Library Package, we've included two of the most important areas of focus Personal Development along with Health and Wellness
THE POWER OF GENESIS ELITE
As an Entrepreneur, the path to building success is a journey, not a sprint! With the Genesis Elite Library Package, we've included two of the most important areas of focus Personal Development along with Health and Wellness
Personal Developement
Personal Development is a critical aspect that can literally "make or break" a person's career, no matter if it's online or not! Because your attitude is so vital to your success it's important to start thinking and acting like a successful entrepreneur.
Many people are relatively new to working online and are seeking materials and guidance to get them off to a good start. Our Genesis Elite Library is geared to do just that!
When studying other successful online entrepreneurs, most of them place "Personal Development" as one of the most over looked areas of improvement, unfortunately it's the least addressed and highest cause of failure in business today.
PERSONAL DEVELOPMENT LEGENDS:
DARREN LITTLEE
VAN KLASSEN
GEOFF STEPHEN
GERRY SCHROEDER
GREG GOMEZ
ILYA MANIN
JACK ZUFELT
JAMES HOLMES
JAMES STARR
GEOFF MILLS
JOE FARINA
JOSH PEAK
KEVIN MCNABB
LARRY WINGET
PATRICK SNOW
RANDY SCHROEDER
RAY HIGDON
RICHARD STEVENSON
RYAN GUNNESS
STEPH PEREZ
TERRY DUFF
TODD FALCONE
TRACEY WALKER
TRENT WIDEMAN
STAN HARRIS
DARREN LITTLEE
VAN KLASSEN
GEOFF STEPHEN
GERRY SCHROEDER
Also included in the Elite Library, are interviews with 24 Legends in our industry and over 30 additional modules to address all aspects of your Personal Development. We believe this type of training is so critical for our members, that we are adding a series of interviews from our own "legends" from within the Exitus business. You will learn directly and at times during live webinars as they share their story, experience, and strategies which will give you first hand knowledge on ways to build your business!
The complete series entitled, "The Village Of Anything Is Possible" is also included in the Elite Library. This is the audio series behind many of the HIGHEST income producers in the business world today. Couple these programs with additional Leadership Development, Self Esteem, Peace of Mind and Motivational Lesson Modules, and you have the most powerful and effective Personal Development Library found online today.